Eventgroove Coupons Reviews
See what our customers say about Coupons
Sammi R.
Verified Buyer
2022-10-17
Great!
These showed up almost perfect. I used this design your own coupon to create our wedding raffle tickets. Great price in comparison to other options. The only thing (which I can't say for sure if it was my designing or the cutting's fault) was there were some that were left with a small amount of white space at the bottom of some of the coupons, but most were perfect. Highly recommend.
Eventgroove
2022-10-19
Hi Sammi, Thank you for your review and kind words! I am glad that most of the tickets were perfect with only a few having white space at the bottom. Upon checking your order, the artwork was not sized properly for a full bleed (color to the edge). The artwork needs to be extended to the very outer edge of the template to ensure we are able to bleed into the color during the cutting process. With the image only extending to the cut line we are not able to guarantee a consistent cut. Unfortunately, this would be the cause of a few of the tickets having white on the edge. If you have any questions, please feel free to reach out to me at 855.798.0799, I am more than happy to help! Congratulations on your engagement! Best wishes! Kim Murray CSS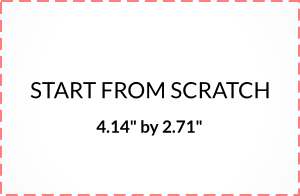 penny G.
Verified Buyer
2018-12-20
Amusememnt center free pass
Awesome clear and thick paper ! Its the second time i order and im always happy with the result ! Thank you !
Eventgroove
2018-12-20
Hello Penny, Thank you for taking time to comment on your recent Kidtopia Coupon ticket order. We appreciate your business and loyalty. We look forward to working with you in the future. Dolores Davis